Assignment
214 - Infanterie Division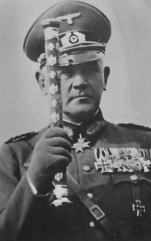 Generalleutnant, Theodor Groppe, 26. August 1939 to 30 January 1940
Generalleutnant, Max Horn 30. January 1940 to 31. December 1943
ID. activ put up: Germany, 26 August 1939, in Hanau
In April 1940 she was assigned to the West-Front, French-German border in the Saar/Saarpfalz region for securing the boarder, Westwall,
Deployment:
Germany, 15. September 1939 to April 1940, Saarpfalz Front, Westwall, in the region Merzig-Dillingen
Am 18. September 1939 verließ der Stab der 214.1.D. um 20 Uhr Idar-Oberstein und erreichte gegen 24 Uhr seinen neuen Unterkunftsraum in Schmelz-Außen.
In der Zeit vom 18. zum 19. September 1939 marschierte die Truppe in den neuen Einsatzraum. Befehlsübernahme meldete die Division am 21. September 1939. Von ihren rückwärtigen Diensten waren die Bäckerei-Kp. und das Feldpostamt zunächst in Limbach bei Lebach untergebracht, während die Veterinär-Kp. Quartier in Biel-Bardenbach bezog.
Als Pferdesammelplatz diente der Hof "Gottesbelohnung" bei Außen, während der Hauptverbandsplatz in Nunkirchen eingerichtet wurde. Hier war auch der Kr.Kw.Zug stationiert, Nr. 2/214.
Das Feldlazarett mit dem zugeordneten Kr.Kw.2ug 1/214 kam zunächst nach Hasborn-Dautweiler und ab 25, September 1939 nach Primstal. Nach dem Rückzug der französischen Truppen über die deutsche Reichsgrenze errichtet die San.Kp. mit dem 1. Zug einen Hauptverbandplatz im Krankenhaus in Beckingen, während der 2. Zug den Hauptverbandsplatz in Hüttersdorf betreute.
Participation in the France campaign:
No participation in the Battle of France
War graves on the way of the 214th. Infanterie Division in: 👉 Nunkirchen/Saar, Germany